Meakin Production Facility
Meadowbrook, Warehouse, 2020
Building Designer: Tarun Jangra
Structural Engineer: Paterdis
A structure simple in plan geometry but challenging in elevation.

A site with the building pad requiring boundary soil retaining ranging from half a meter to three meters. The solution called for large thickness but narrow concrete tilt-up walls that retained the soil whilst supporting the mezzanine floor and roof structure. Analysis of a number of stages during construction was crucial in achieving efficient concrete tilt-panel designs whilst understanding the possible structural demand on the panels.

The office has two suspended floor levels above the development's proposed flood detention basin. The lowest office floor being a composite steel and concrete suspended floor whilst the upper level floor being a lighter weight structural steel framed floor with steel joists. Lower level floor bracing was introduced to the composite floor framing and was efficiently combined with short tilt-up panels to form the retaining system to the detention basin. This simple retaining system removed the need for separate trades and allowed the retaining walls to be cast and placed with the building's other tilt-up walls. The steel erection of the warehouse stabilised the tilt-panel retaining walls.

A 2600 square meter concrete suspended floor was requested by the planned tenant during preliminary design. Design brief was to achieve the large span concrete floor whilst also achieving 100mm max column widths in specific locations to allow for final internal wall finishes including proposed fire rating. This was overcome by composite steel and concrete floor system and using support columns made from a series of narrow SHS hollow sections 'stacked' together. Detailing the top connections of the columns to remove any possible vertical load eccentricities was critical in achieving such narrow columns.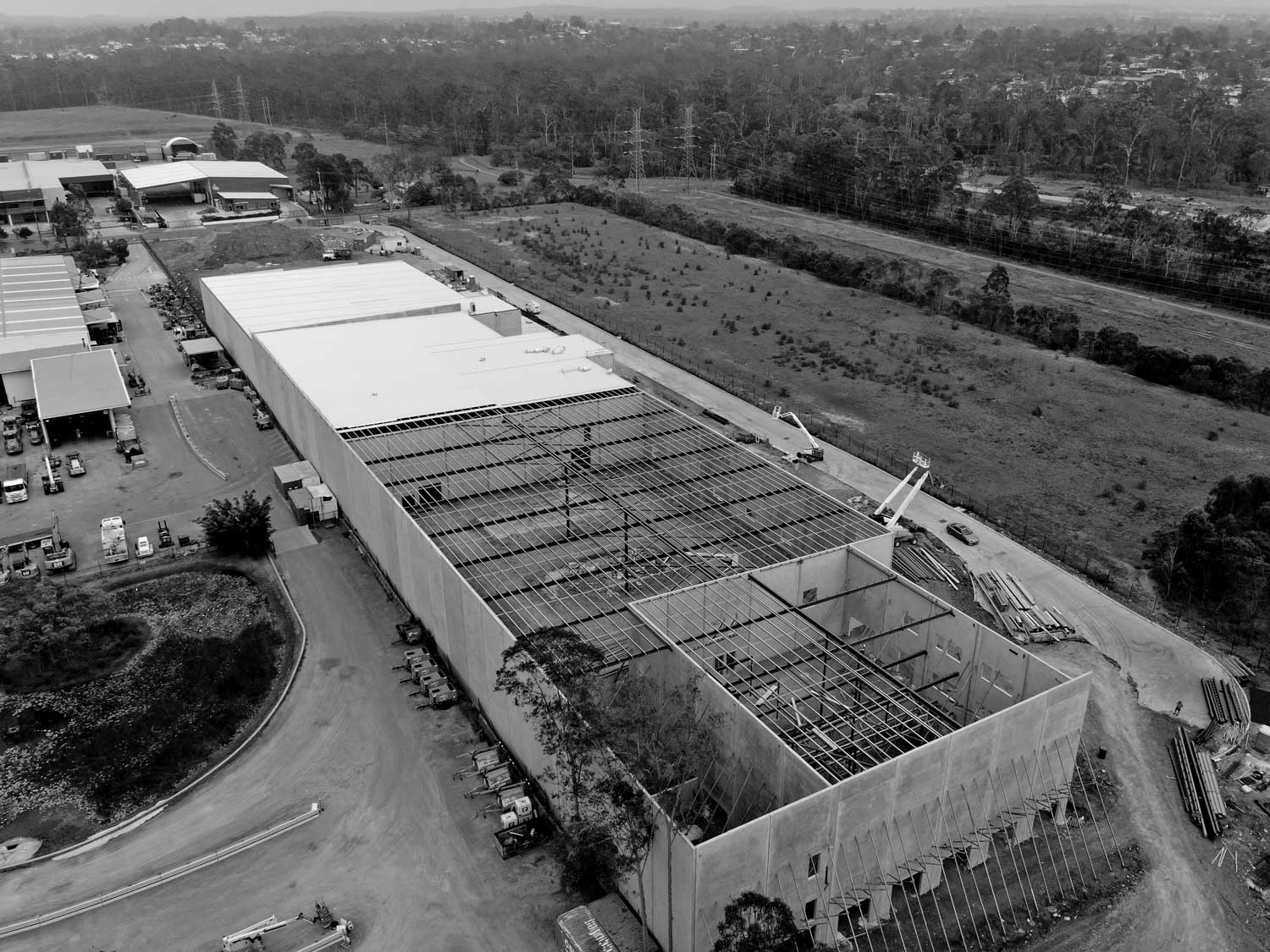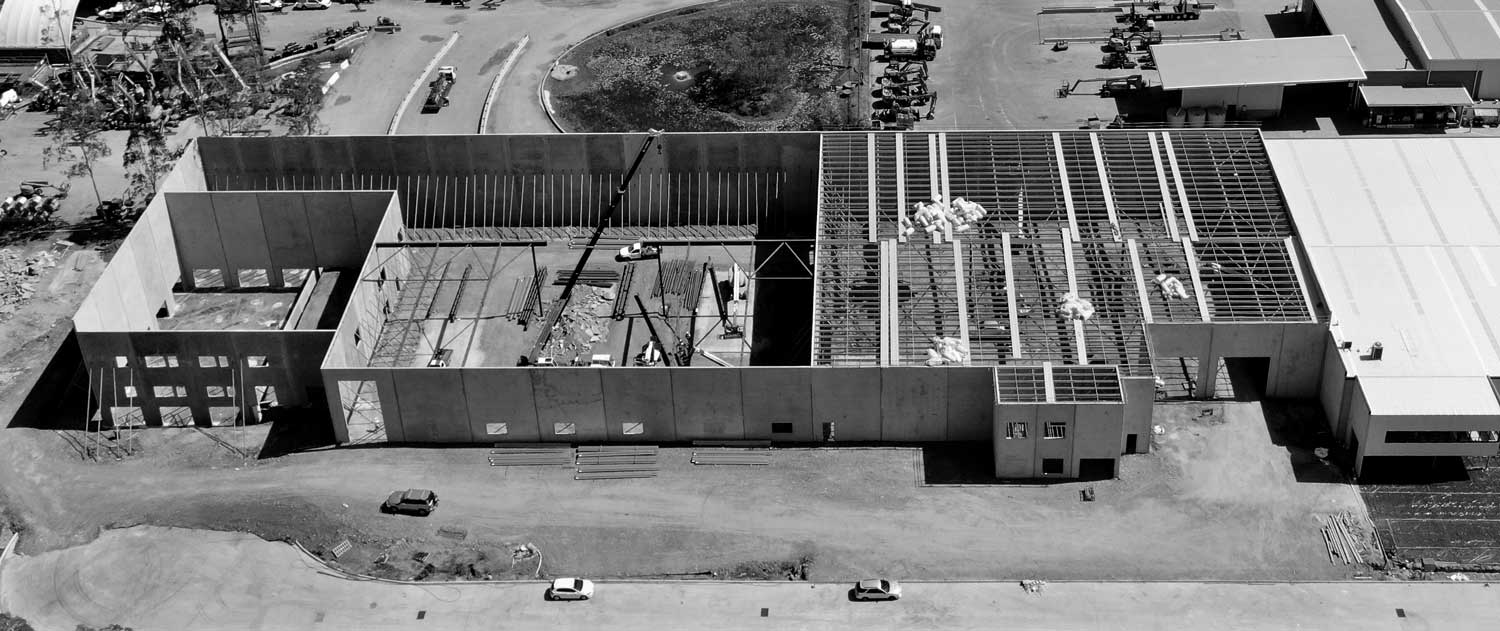 Meakin Road
Meadowbrook, Warehouse, 2020
Building Designer: Tarun Jangra
Structural Engineer: Paterdis
Client brief was simply clear span within the warehouse area, no internal columns and a composite steel and concrete office floor. A 47m long and 27m wide warehouse roof designed as a two-way beam system to achieve the clear spans efficiently as possible. Roof bracing system also serves as buckling restraint to the large carry beams.
Ellerslie Road 2.0
Meadowbrook, Warehouse, 2019
Building Designer: Tarun Jangra
Structural Engineer: Paterdis
A continuation to the previous Ellerslie Road project. Another large warehouse development in close proximity to the first but smaller in size. Approximately 7000 square meters under roof with 10 tenancies and each of approximately 700 square meters under roof - all of clear column free construction. A similar structural system to the first Ellerslie Road development was adopted and further refined where possible.
Holt Street
Pinkenba Qld, Warehouse, 2017
Building Designer: Tarun Jangra
Structural Engineer: Paterdis
A warehouse with approximately 11000 square meters under roof. The design includes a 100 meter long underground fire water storage tank, fire escape tunnels, underground pump room and suspended concrete storage floor above the warehouse office space. Paterdis collaborated with developer and building designer to deliver the project in stages to allow accelerated construction programme.

Client brief was to produce a structural system with no internal bracing and economically large column free space. The lateral structural system is a combination of braced and portalised frames; the central 'spine' roof trusses were rigidly connected to columns to produce lateral stability and effectively providing a spring support to the large span roof bracing system spanning between external tilt-up wall panels - this eliminated the need for internal bracing. Structure is supported on driven piles with the internal slabs on ground and tank constructed economically floating and isolated from the main structure.
Ellerslie Road
Meadowbrook Qld, Warehouse, 2017
Building Designer: Tarun Jangra
Structural Engineer: Paterdis
A large warehouse development of approximately 12000 square meters under roof with 18 tenancies each ranging from 600 square meters to 900 square meters. The development called for structural economy in repetition whilst achieving the brief that the tenancies must remain column free. A carry truss system was developed with the top chord forming part of the roof bracing system and the roof bracing system doubling up as the truss chord buckling restraint system. Considerable thought was invested into the truss to tilt-panel connection to ensure no bending forces transferred into the panels; part of this detail was to ensure the roof bracing load path bypassed this connection.
Bluestone Circuit
Seventeen Mile Rocks Qld, Warehouse, 2014
Building Designer:
Three Chairs Short
Structural Engineer: Paterdis
Paterdis was approached for value engineering input into an existing structural design for an architecturally designed warehouse. Costings on the existing structural system was affecting the economic feasibility of the project. Value engineering discovered that a minor roof slope direction change would not change anything architecturally or hydraulically and would make the project feasible by reducing the cost of the structural works significantly. Precast panel designs were revised and heavily reinforced strip footings were removed and replaced with isolated pier footings which again reduced construction costs significantly.
Blue Eagle Drive
Meadowbrook Qld, Warehouse, 2019
Architect: Livio Taraborrelli
Structural Engineer: Paterdis
Paterdis have been collaborating extensively with a second generation warehouse developer on improving structural aspects of their 'generic' warehouse designs. Paterdis have completed in excess of ten warehouses for the developer with constant refinement and improvements to the structural system.

Currently the warehouse structural system consist of precast tilt panel walls, cast in situ columns using standard 'formatube' sizes, precast office suspended slabs (cast with and lifted into place with the tilt panels) and structural steel roof bracing systems that remove the need to transfer chord bracing forces through rafter connections to panels.The solution currently allows tilt-panels to be erected at the same time as the office suspended slabs, removing the form working element from the process.

Ongoing extensive experimental finite element analysis and literature reviews are undertaken on the precast tilt-panel designs as we continually develop and further the structural system for efficiency and safety.
Mica Street
Carole Park Qld, Warehouse, 2017
Architect: Livio Taraborrelli
Structural Engineer: Paterdis
A large span warehouse where Paterdis produced a number of framing concepts to the developer; a clear span welded beam rafter simply supported on slender wall columns to prevent large second order design forces on panels ('non-load bearing panels'), a clear span roof truss option with a lower chord cable bracing system and finally a portal frame system with 'non-load bearing' panels.

Each solution aimed at providing column free warehouse space. The welded beam solution was costly and involved long lead times on the welded beam procurement, the truss option lost too much warehouse height in making the framing economical and the portal frame option was costly with no reduction in panel costs given fire requirements limiting minimum panel thickness.

The final solution incorporated a central column and a carry beam rafter with lateral torsional restraint provided by the roof bracing system. The combined roof bracing and carry beam buckling restraint produced an efficient universal beam system where lead time and cost were no longer an issue.
Orient Avenue
Pinkenba Qld, Warehouse, 2016
Architect:
Property Architects
Structural Engineer: Paterdis
A long and narrow warehouse structure that relies upon the long span roof bracing and narrow end panels for structure stability. Extensive analysis was undertaken on the roof bracing system and the narrow end panels to ensure a stable load path. As part of these works, Paterdis also structurally designed a free standing roof canopy for a truck stop on the adjacent site.
Link Drive
Yatala Qld, Warehouse, 2013
Building Designer:
The Design Studio (Dwight Kirkwood)
Structural Engineer: Paterdis
A large tilt-panel warehouse structure on what was a steep sloping site. The structure was founded significantly below the neighbouring property with the rear tilt-panel wall relied upon for retaining neighbouring soil up to 2.5m high. Extensive analysis was undertaken to ensure the tilt-panels, roof bracing system and ground slab was capable of resisting the retaining wall loads.
Badu Court
Meadowbrook Qld, Warehouse, 2015
Architect: Greg Everding
Structural Engineer: Paterdis
A 125m long warehouse structure that was custom designed for a growing online sales company that required large warehouse storage capacity. Given the length of the building, a simple steel portal frame system was developed. The portal frame system gave the structure the smallest rafter possible and therefore allowing more valuable storage height. The product distribution system required a conveyer hard against the rear wall of the warehouse which was obviously not suited the portal frame system- Paterdis took the portal frame leg outside the building at the rear of the warehouse to overcome this problem.

Paterdis were also responsible for the design of a fire water storage tank suspended slab above a 3m retaining wall. The suspended slab had to hold 600T of water weight over a very concentrated area.
Boundary Road
Archerfield Qld, Warehouse, 2013
Architect: Greg Everding
Structural Engineer: Paterdis
A large eight tenancy warehouse development with a total warehouse area of approximately 12000 square meters. Roof rafter span of 35m was achieved economically with roof trusses. Initial design incorporated a secondary lower chord bracing system but faced client objections given the lost height between the roof trusses for potential storage capacity. Paterdis undertook detailed analysis on a lower chord fly bracing system back to the roof purlin system. The analysis considered the buckling load requirements of the Australian Standards in combination with the roof purlin design loads to ensure compliance. The structure is constructed of perimeter load bearing tilt-panel walls and suspended concrete office floors.
Jaws Buckets
Archerfield Qld, Warehouse, 2011
Client:
Jaws Buckets and Attachments
Structural Engineer: Paterdis
A mining client that required a 15m high fabrication space with a 35T overhead travelling crane capacity. The final structural system is propped portal framed structure braced back to the end walls by the roof bracing system. The structure also included high rated steel storage mezzanine floors and a two level office. Difficult soil conditions and large footing loads required deep piling. Crane and structure were suitably load tested for the full capacity as part of the commissioning process.
Empire Industrial Estate
Yatala Qld, Warehouse, 2019
Building Designer:
R.H.Frankland
Structural Engineer: Paterdis
Paterdis have been involved in excess of eight warehouse structures within the newly developed area of the Empire Industrial Estate and the nearby Thomas Hanlon Court development. All warehouses are of tilt-panel construction with suspended concrete office slabs. Non-conventional roof bracing systems have been explored and constantly proving economy in structural steel.